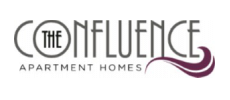 Your Review
Submit a Review

Resident Reviews
|

Recommended: Yes
Sarah, Thank you for your review. We're very glad that you appreciate our efforts to maintain a clean apartment community. Our goal is to to provide a clean living environment that all of our residents can enjoy. Best wishes, The Confluence Management Team
|Recommended: Yes
Very nice apartments — I love the are and the cleanliness the staff is amazing
Yarithxa, Thank you for your review. We're very glad that you appreciate our efforts to maintain a clean apartment community. Our goal is to provide a clean living environment that all of our residents can enjoy. Warm wishes, The Confluence Management Team
|Recommended: Yes
Quality, Price, Location and Style all within a comfortable budget. — Second to none in the Sacramento Area Quiet community, Wonderful staff, accommodations, and class, all at a comfortable price. I have rented from multiple apartments in the area over the years and I never have I had such a great experience with a sense of safety, security, friendliness and home like I have had with my time here at The Confluence. I'm sure to be here for many years to come, without question.
Thank you for taking time to post this review. We appreciate your feedback and are so pleased to bring a 5-star living experience. We value you as a part of our community. Warmest Regards, The Confluence
|Recommended: YesNice — I like to live here
|Recommended: Yes
I have been visiting this property over the last year and am blown away by all of the improvements that were made to the buildings, clubhouse and grounds. It looks beautiful, modern and welcoming The entire staff, from leasing office to the maintenance team, are attentive, personable and it is obvious that they enjoy what they do. Would be a great place to call home
Thank you for your kind words Liz! we love hearing that our residents are enjoying the improvement we make, and we hope you continue to approve of the community! - the The Confluence management team
|Recommended: Yes
Feels like home — Alma does a great job managing these apartments she makes it feel like home The complex and grounds are well taken care of the only issue I have is parking. People that dont have parking passes are taking all the parking places. Other than that I would recommend anyone to live here
Randi, thank you for your review. We are so glad to hear that our staff is making you feel right at home.Confluence would love to help address any issues you have, including parking, please contact our main office at 916-381-0371. We hope you you continue having a great experience and enjoy your home. -The Confluence Management Team.
|Recommended: Yes
I've had a great experience in these appointments. The management is kind and understanding — I would tell people that it's quiet, calm, and peaceful living here. And the events being planned every month is such a great idea. Even tho I haven't attended one, my daughter liked the cookies with milk event.
Thank you for your 5-star review, Inda! We're so glad that you love living at The Confluence as much as we enjoy having you. We are so glad that you are enjoying the serenity of our community and that your daughter is enjoying our events! Thank you for being a valued resident! Best, Business Team Leader The Confluence Apartment Home 3130 Occidental Dr. Ph: 916.381.0371
|Recommended: Yes
Nice living — Feels like home
Thank you for the positive review, Shayla! We love to hear that our community feels like home to you! Best, Business Team Leader The Confluence Apartment Home 3130 Occidental Dr. Ph: 916.381.0371
|Recommended: YesOverall a great place to live. — The Confluence Apartments are superior to others in the area. All new construction and landscaping. Maintenance is also always available.
|Recommended: YesSeguro — Muy bonito y seguro
|Recommended: Yes
Excellent place to live — Neighbors friendly and quiet,maintenance is super fast,management is awesome, and i love my apartment. Would recommend
Thank you for the great review, Angela! Our community thrives thanks to great residents like you! Always great to hear our maintenance team is doing a great job. Thanks, again for the feedback! Best, Alma Vega Business Team Leader The Confluence Apartment Home 3130 Occidental Dr. Ph: 916.381.0371
|Recommended: Yes
There great — Peaceful
Thank you for your review, Ted! So happy to hear that you are enjoying the serenity of The Confluence! Alma Vega Business Team Leader The Confluence Apartment Home 3130 Occidental Dr. Ph: 916.381.0371
|Recommended: Yes
Nice place — Nice place to live neighbors are friendly staff is very welcoming
Thanks for the great review, Kenneth! We are glad you are enjoying living at TC. It takes a village to build a great community and we thank you for being part of ours! Best, Alma Vega Business Team Leader The Confluence Apartment Home 3130 Occidental Dr. Ph: 916.381.0371
|Recommended: Yes
I like it a lot — i would tell this this is a great place to live
Dear Matthew, thanks for leaving us such a wonderful review. We are thrilled that you loved your experience; our staff will definitely be happy to read what you wrote. We put customer experience and satisfaction as our priority, and your review reaffirms the hard work we put in every day. So thanks for your kind words and we look forward to seeing you at our next resident event! Best, Alma Vega Business Team Leader The Confluence Apartment Home 3130 Occidental Dr. Ph: 916.381.0371